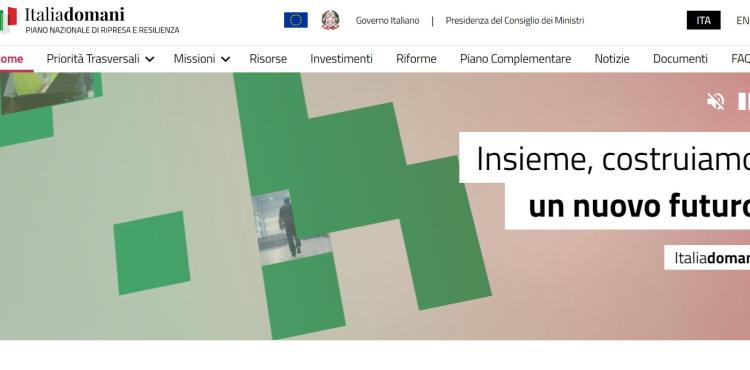 italiadomani.gov.it, the official portal dedicated to "Italia Domani", the National Recovery and Resilience Plan, is online.

The government portal explains the contents of the Plan and tells the path of implementation through intuitive and clear sheets dedicated to monitoring investments and reforms, with constantly updated news on the development of the planned interventions.

The site allows you to consult the progress of each investment and the costs incurred, so that anyone can control and monitor the information related to the implementation of the Plan.

By accessing the "Cross Priorities" section, it is possible to navigate among the main measures that have a positive impact on young people, on gender equality and on the reduction of territorial differences.

The "Missions" section illustrates the main interventions contained in "Italia Domani", divided into the six Missions of which the Plan is composed. In the "Resources" section you can consult a prospectus of the financial resources available for each Mission, with the indication of the additional resources allocated within the Complementary Fund.

In addition, the "Reforms" section explains the content, objectives and timing of the reforms.

In the "Investments" section you can easily consult the more than 150 investment projects contained in the Plan, monitoring the progress of each measure, the benefits for citizens, the activities and deadlines and the amount set for each year. Thanks to a simple filter system, you can search for the investments and view those you are most interested in.

From the portal you can also download the full text of the Plan, along with many other in-depth documents.
Argomenti
Support for Businesses
30/09/2021