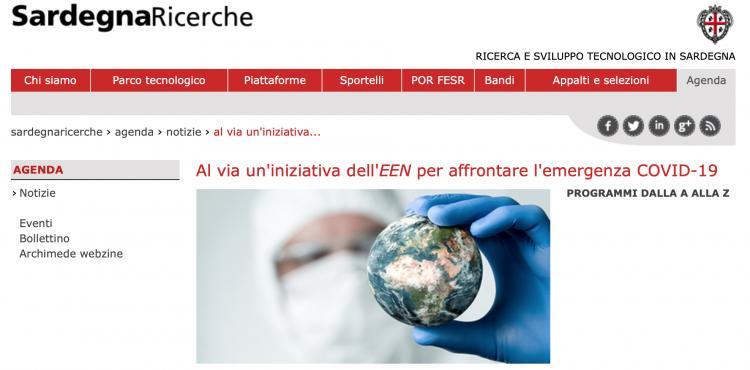 The name is "Care & Industry Together Against Corona"; it's a platform open to the meeting between supply and demand of innovative products and solutions, to share knowledge and practices during this phase of health and socio-economic crisis caused by the spreading of the COVID-19 contagion. Enterprise Europe Network, the European network for technology transfer, took this measure; the Island is represented by Sardegna Ricerche, a stable partner of this network.
"Care & Industry Together Against Corona" it's open to all business operators: hospital facilities, enterprises, emergency operators, public or private research centres, universities and other interested parties. It's a new chance to find business partners that will build project proposals and present financing ideas on international calls open on the COVID-19 topic and addressed to thematic areas potentially connected to the current emergency. From protective and care equipments to diagnostics and monitoring, technologies for patient management and emergency medicine, laboratory equipments, information and communication technologies.
Entries open until December 31st, 2020. Enterprise Europe's local nodes, among which Sardegna Ricerche, are available to those concerned to verify, validate and publish applications and offers to be included on the platform, and are ready to support them in case of need and contact management. At this link https://care-industry-together-against-corona.b2match.io you can already find various proposals of collaboration, instructions for access and representative contacts of all involved organisations.
Argomenti
Research and innovation
27/04/2020