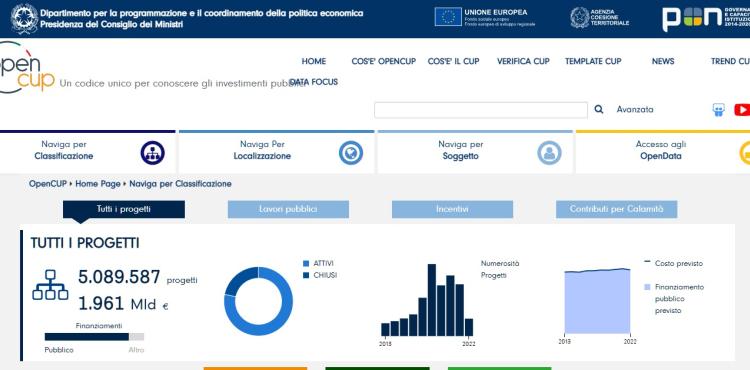 Data on more than 70,000 development initiatives funded by the PNRR are available online. All information on funding lines related to Pnrr can be consulted thanks to the OpenCup Project, which is the new database dedicated to projects related to Pnrr.
OpenCup has mapped funding and candidate initiatives, which shows that 75% of the total interventions are public works, of which about half are programmed focused on green revolution and ecological transition, in particular for the protection of the territory and water resources.
The OpenCUP portal, started by the Department with the specialised technical support of Invitalia, is among the initiatives for transparency, civic access and accountability launched in Italy to promote open government policies.
Open data encompasses the Project Identification Code of all project types, from public works to incentives to companies, from contributions to private individuals to the purchase and implementation of services, linked to a Pnrr theme and associated with the respective three structural areas of intervention:
Mission: Digitisation, innovation, competitiveness and culture; Green revolution and ecological transition; Infrastructure for sustainable mobility; Education and research; Inclusion and cohesion; Health.
Component: the constituent element of PNRR that reflects reforms and investment priorities related to an area of intervention, a sector, a scope, an activity, in order to address specific challenges. The component is divided into one or more measures.
Measure: specific investments and/or reforms and sub-areas of intervention provided for in the Plan realised through the implementation of interventions/projects financed therein.
21/06/2022